On March 23, the world watched as United States lawmakers questioned TikTok CEO Shou Chew at a House Energy and Commerce Committee hearing in Washington. In the hearing, lawmakers grilled the CEO over suspicions that the Chinese government is gathering user data through the app. 
The intensity of the exchanges went viral online, with many believing that a ban — exemplified in the Restricting the Emergence of Security Threats that Risk Information and Communications Technology (RESTRICT) Act recently introduced in the United States Senate — may be imminent.
While the platform is not a crypto-native app, it's used by many crypto community members to access crypto-related content. This means a ban on TikTok may have several implications for the crypto space.
Effects that 'cannot be ignored'
U.S.-based think tank Coin Center believes that the RESTRICT act has a similar precept to the International Emergency Economic Powers Act, which allowed the Treasury's Office of Foreign Assets Control (OFAC) to prohibit U.S. citizens from transacting with sanctioned entities.
According to Coin Center, the potential effects on the crypto space cannot be ignored as the bill "creates blanket authority, with few checks, to ban just about anything linked to a 'foreign adversary.'"
Recent: The secret of pitching to male VCs: Female crypto founders blast off
Austin Federa, the head of strategy at Solana Foundation, said that the current rhetoric should worry U.S. citizens:
The TikTok ban rhetoric should worry everyone in crypto in the US — not because of TikTok itself, but because of what it could mean for the ability to publish and distribute software some politicians don't like, which is protected under the first amendment.

— Austin Federa | ️ (@Austin_Federa) March 31, 2023
Bitcoin YouTuber CryptoWendyO also thinks the bill is not about TikTok but about going after the crypto space itself. "Yes, your bitcoin, crypto and NFTs. Banning them is the goal," she wrote on Twitter. 
While some are concerned about the act being used to ban crypto directly, those working to spread the word about various crypto projects also expressed concerns over a potential ban on the social media platform.
Implications for crypto
While TikTok was initially dominated by teenagers mimicking trending dances, the content within the app quickly branched out to various niches, including crypto. One of the earliest notable crossovers between crypto and TikTok can be traced back to 2020. At the time, the app was used to pump the prices of Dogecoin (DOGE) through a viral TikTok pumping challenge.
Since then, TikTok has been a go-to platform for crypto projects who want to build their communities. The platform has been bombarded with crypto-related content, from exchanges like Binance and Coinbase to influencers sharing their thoughts on tokens and blockchain projects. At the time of writing, the hashtags "crypto" and "cryptocurrency" have a combined view count of 34.7 billion.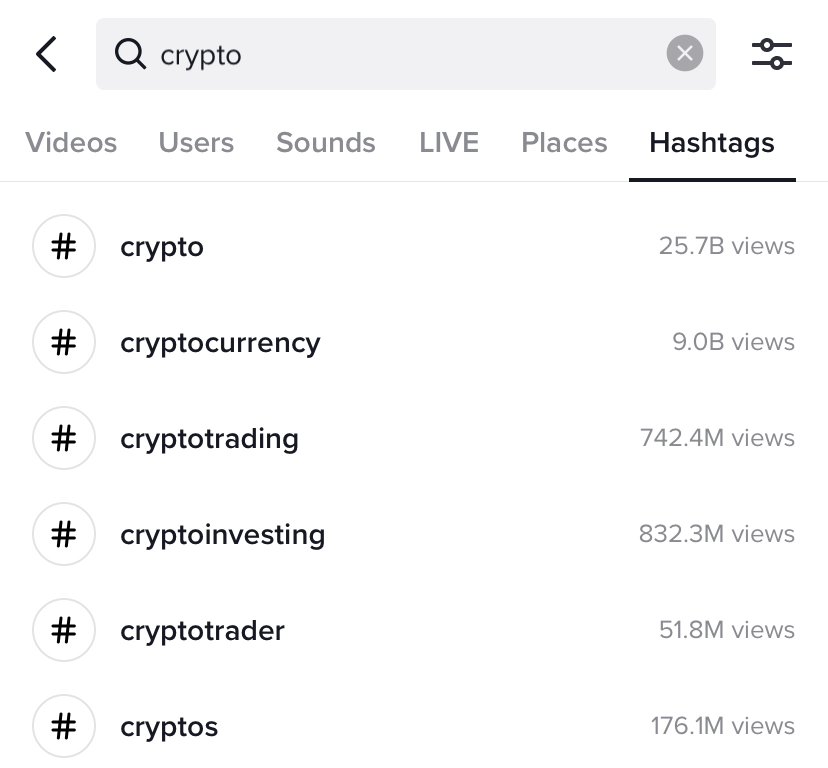 Roland Guirdonan, who has worked as a social media community manager for various crypto startups, believes that TikTok is building communities for crypto. He told Cointelegraph:
"TikTok is one of the most powerful marketing tools that crypto projects use to reach a younger, social media-savvy audience. Crypto projects use TikTok to create engaging content, and run contests and giveaways that quickly reach worldwide audiences."
According to Guirdonan, a TikTok ban in the U.S. could affect user acquisition efforts of crypto projects trying to reach a younger demographic in the country.
"TikTok's algorithm has been praised for its ability to quickly make content go viral, which has been a major factor in the success of many crypto projects," he added.
Mac Ocampo, the CEO of Web3 social platform Follow, told Cointelegraph that TikTok does a great job at visualizing crypto projects to their target audiences. Ocampo, who has previously worked as a chief marketing officer for crypto projects, noted that TikTok allows companies to capture the attention of Millennial and Generation Z age groups.
However, he said that a TikTok ban would not mean the end of Web3 marketing.
Crypto marketing efforts
While a TikTok ban in the U.S. may have some effects on reaching audiences in the country, some believe that the impact on crypto marketing will not be as severe as others think. According to Ocampo, there will be opportunities for other firms like Meta to jump in if the platform gets banned. He explained:
"If ever TikTok will be banned in the U.S., there's an opportunity for Meta to revamp Instagram into a more direct rival of TikTok. It presents the opportunity as well for Meta to capture TikTok's market share in the U.S. and pursue its metaverse and NFT initiatives it has recently canceled."
Joanna Alhambra, who coordinates influencer marketing for Web3 projects, also thinks there's always a way to do marketing, even without TikTok. She told Cointelegraph that if TikTok gets banned, influencers will simply flock to other platforms.
Recent: Indonesian government looks to NFTs to preserve cultural heritage
"When TikTok gets banned, TikTok influencers will look for alternative short video streaming platforms. So, Instagram reels and YouTube shorts might be the next unless a Web3 TikTok surfaces," she said.
Meanwhile, Rohit Mohan, the CEO of Web3 marketing firm NC Global Media, argued in favor of TikTok when it comes to reaching wider audiences in crypto marketing. According to Mohan, the platform's direct competitors are "boomer apps" and do not have the same capabilities as TikTok. According to Mohan, a ban on TikTok will become an "additional hit" that the crypto community will take as the space goes through the throes of a bear market.