Liquid staking protocol Lido Finance activated a protocol safety feature called "staking rate limit" after more than 150,000 Ether (ETH) was staked with the protocol in a single day.
Lido is a liquid staking solution for digital assets, allowing users to stake Ether without them needing to have their tokens locked. When a user deposits Ether, Lido issues them a liquid variant of ETH, known as staked Ether (stETH), giving users staking rewards for each day the tokens are held in their wallets.
Lido protocol has registered its largest daily stake inflow so far with over 150,000 ETH staked.

Upon reaching this number, a curious (but important) protocol safety feature called Staking Rate Limit was activated.

Here's how it works pic.twitter.com/ngBtWz7q18

— Lido (@LidoFinance) February 25, 2023
According to the liquid staking protocol's Feb. 25 tweet, the "dynamic mechanism" was activated after the daily staking limit of 150,000 Ether was reached.
In a related guide, Lido explained that the "safety valve" is aimed at limiting the amount of staked Ether that can be minted during high inflows, intended to address any potentially negative effects, such as rewards dilution.
"This means it is only possible to submit this much Ether to the Lido staking contracts within a 24-hour timeframe," it explained.
The mechanism works by limiting the amount that can be minted based on deposits within the last 24 hours, replenishing capacity at 6,200 ETH per hour.
"It works by decreasing how much total stETH can be minted at any one time based on recent deposits, and then replenishing this capacity on a block-by-block basis," Lido said.
Lido noted the staking rate limit mechanism would affect "all parties who may try to mint stETH, regardless of approach."
Eagle eyed on-chain analyst Lookonchain shared a screenshot reportedly showing that the 150,100 ETH may have come from a single user, with three deposits 50,000 each and one of 100.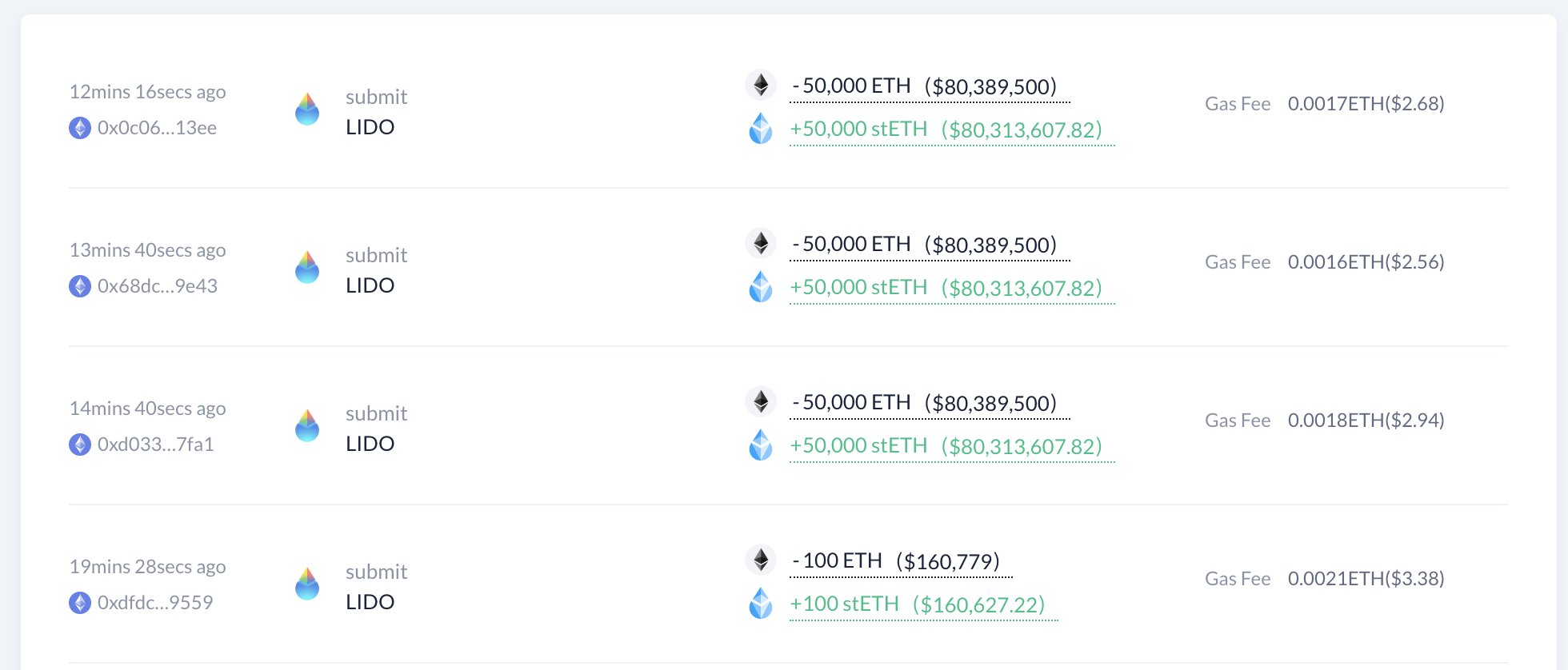 According to Lido Finance's website, as of Feb. 27, more than $8.9 billion in ETH has been staked with the protocol, up significantly from the $5.8 billion reported on Jan. 2. 
Related: SEC's crypto staking crackdown has uncertain consequences for DeFi: Lido Finance
The latest development from Lido comes as Ether staking volumes have reportedly continued to rise as the Shanghai upgrade nears. The Ethereum Shanghai upgrade is due in mid-March, leading to speculation about what could happen to the price of Ether.
One of the five planned upgrades, EIP-4895, is expected to unlock staked ETH and allow withdrawals, potentially leading to increased liquidity in the crypto market.
$25 billion of ETH has been staked since the Beacon Chain was launched and introduced staking to ETH in December 2020.