Welcome to Finance Redefined, your weekly dose of essential decentralized finance (DeFi) insights — a newsletter crafted to bring you the most significant developments from the past week.
The United States Department of Justice (DOJ) is on the lookout for DeFi hackers and exploiters who have stolen millions of dollars worth of assets. The DOJ's top crypto cop said it was a significant issue in the wake of North Korean state-sponsored hackers.
The decentralized autonomous organization Bancor DAO was hit with a class-action lawsuit over its impermanent loss protection promises.
As Ethereum un-staking opened on the Beacon Chain, bankrupt crypto lender Celsius moved $781 million worth of staked Ether (stETH) from staking service provider Lido as Ether (ETH) withdrawals opened.
Coinbase Cloud has tapped into the Chainlink Oracle network to improve its smart contract reliability. Chainlink's oracle network will welcome Coinbase Cloud as a node operator to improve high-quality data provision to several blockchain protocols.
The DeFi market had another bearish week, with the total value locked in DeFi protocols falling below $50 billion after five consecutive weeks of bullish price action.
US Justice Department on the hunt for DeFi hackers and thieves: Report
The DOJ's crypto tsar is cracking down on DeFi hackers and exploiters amid a four-year rise in illicit crypto activity.
In a Financial Times report published on May 15, Eun Young Choi, director of the Justice Department's National Cryptocurrency Enforcement Team, stated that the department is focusing on thefts and hacks involving DeFi, and "particularly chain bridges." Choi said it was a "pretty significant issue" for the DOJ, given North Korean "state-sponsored hackers" have emerged as "key actors in this space."
Celsius moves $781 million in stETH just as Lido withdrawals open
It appears that embattled crypto lender Celsius is wasting no time shifting its Ether staking tokens from liquid staking platform Lido, which has just enabled withdrawals.
On May 15, a transaction was identified on Celsius wallets for 428,015 stETH to the Lido staked Ether wallet. At the time of transfer, the whopping stash was worth $781 million, which some believe is in preparation for withdrawal. On-chain data points to Celsius performing a test withdrawal of 0.1 stETH a few hours later.
Bancor DAO hit with class-action suit over impermanent loss protection promises
A group of investors has filed a class-action suit against the Bancor decentralized autonomous organization; its operator, BProtocol Foundation; and its founders in the United States District Court for the Western District of Texas. The plaintiffs claim, among other things, that Bancor deceived investors about its impermanent loss protection (ILP) mechanism for liquidity providers and was an unregistered security.
According to the suit, Bancor's v2.1 investment product, introduced in October 2020 and the second to feature ILP, operated at a deficit that the defendants were aware of and tried to cover by launching a new product, v3, which promised: "some of the most competitive returns anywhere […] without asking users to take on any risk."
Coinbase Cloud plugs into Chainlink oracle network to improve smart contract reliability
Coinbase Cloud will leverage its global infrastructure and experience managing blockchain data to bolster the security and reliability of the Chainlink blockchain oracle network.
The U.S based cryptocurrency exchange's cloud service will operate as a new node operator on the Chainlink network in a partnership set to improve the decentralization of the Web3 ecosystem.
DeFi market overview
DeFi's total market value saw a minor increase this past week. Data from Cointelegraph Markets Pro and TradingView shows that DeFi's top 100 tokens by market capitalization had a bearish week, with most tokens trading in the red. The total value locked in DeFi protocols fell below the $50 billion mark.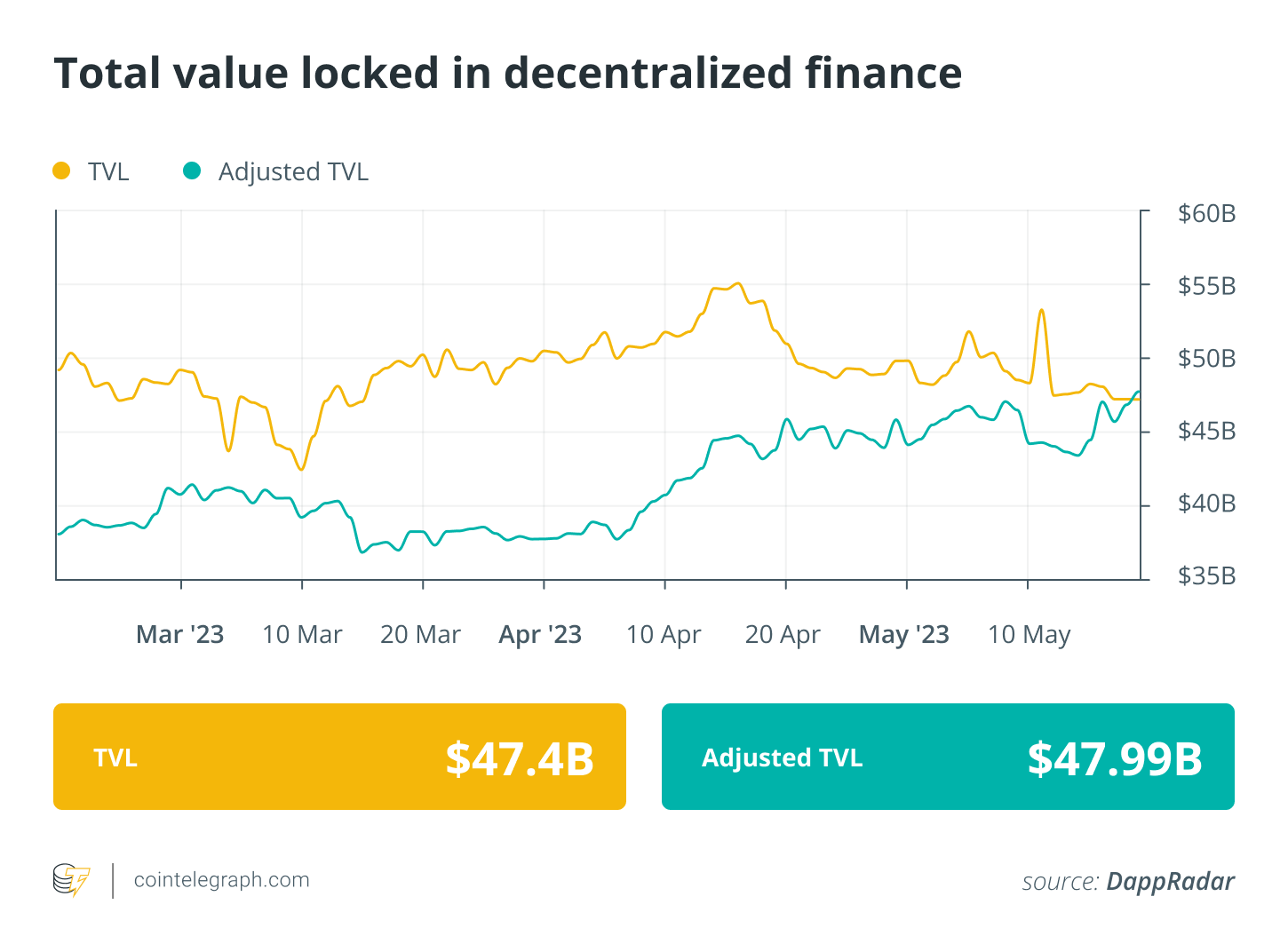 Thanks for reading our summary of this week's most impactful DeFi developments. Join us next Friday for more stories, insights and education regarding this dynamically advancing space.