Bitcoin (BTC) has clocked eight straight days of increasing prices and has surged back above $18,000 for the first time since mid-December.
The cryptocurrency hadn't recorded such a prolonged winning streak since July 2021, at the height of the COVID-19 pandemic.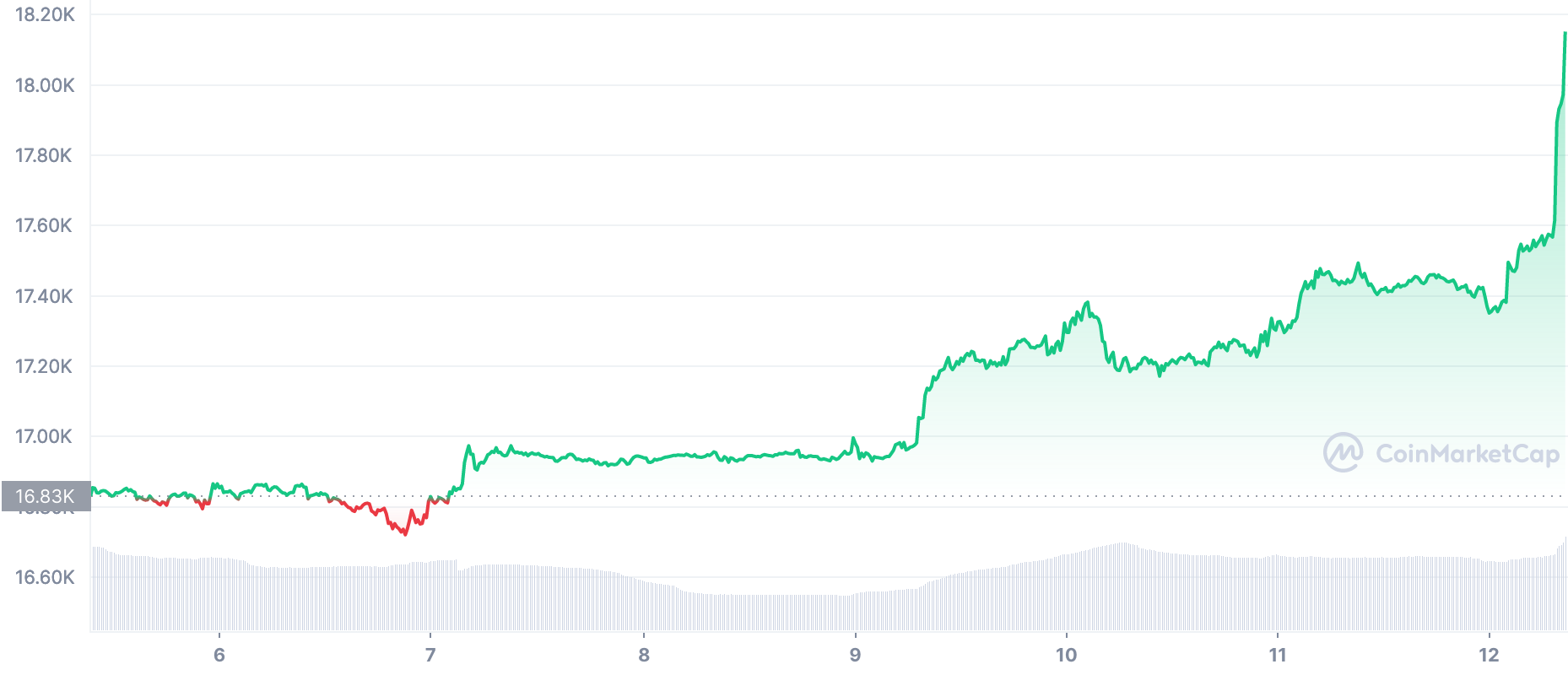 Over the last seven days, the price of BTC has increased nearly 8%, with a 4.1% surge in the last 24 hours at the time of writing.
Cointelegraph analysts predicted on Jan. 11 that Bitcoin could rally to $18,000 and that its upward price movement put pressure on $275 million worth of weekly options expiring Jan. 13 with bets placed at $16,500 and lower.
Hedge fund Moskovski Capital's CEO, Lex Moskovski, tweeted an image on Jan. 11 showing $86 million worth of Bitcoin shorts were "getting smoked royally."
Shorts are getting smoked royally.

$86M in the last 4h. pic.twitter.com/hNPwn4C53M

— Lex Moskovski (@mskvsk) January 11, 2023
BTC's price fell nearly 65% over 2022. The wider crypto market also faced headwinds resulting from numerous bankruptcies and collapses in the space in the same year including crypto exchange FTX, the second-largest exchange at the time of its bankruptcy.
It seems that #Bitcoin likes to remind us that it doesn't give a shit about exchanges, investor letters, open letters, and ponzi schemes: pic.twitter.com/OfmmdWeUvz

— Andrew (@AP_Abacus) January 12, 2023
On Jan. 11, FTX said it had recovered $5 billion in cash and cryptocurrencies which it may sell in order to repay its creditors, a move that some say could form a bullish narrative if FTX customers are repaid.
yup my sense is that is and always has been the best recovery scenario for customers. I think that them being made substantially whole is a real possibility; I think we were possibly a few weeks away from getting there in November. (US is solvent, should make everyone whole.)

— SBF (@SBF_FTX) January 12, 2023
The exchange also found a number of cryptocurrencies it says will be harder to sell as the markets for those assets are illiquid.
Related: From Bernie Madoff to Bankman-Fried: Bitcoin maximalists have been validated
However, some have  urged caution on the price, saying a BTC price rally is typical before the release of United States Consumer Price Index (CPI) data.
Never fails. This is third pre-cpi ramps.

— Bill Noble (@crypto_noble) January 12, 2023
CPI data is due on Jan. 12 and many seemingly expect it to show that inflation is dwindling and the Federal Reserve may pump the brakes on hiking interest rates.
The sentiment has also seen the price of stocks rally, with the S&P 500 up 4% over the past five days, according to Google Finance.
U.S. Treasury yields have also seen a slight fall recently, according to Bloomberg data.